Reflections on Shelley Burgess' Quote.
Each week, Beth Houf, Dawn Harris, Shelley Burgess and I collaborate and discuss topic for the weekly #LeadLAP chat focused on antiracism.
This past week, each of us was to share a quote, something personal, intimate regarding the work of dismantling systemic racism and invite #LeadLAP chat participants to share their thoughts on the quote.
As I prepared the cards for the chat, I read each quote, processed, digested, and reflected on the statements and assigned a title to each quote.
Shelley's quote is powerful. When the title came to me, I literally had to sit for a few moments and let it soak in.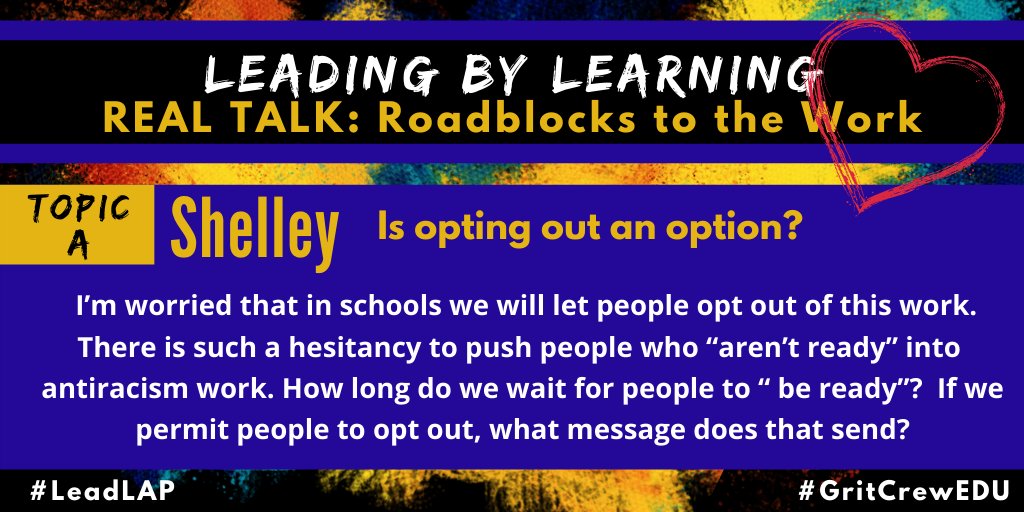 "Is opting out an option?"
No.
The quote, the title, my answer to the title question compels me to write, "Opting Out is Not an Option."
We don't get to think, "I'm not a racist so I'm doing my part."
We don't get to raise the white flag and say, "I don't want to mess up, say the wrong thing and offend someone."
We don't get to act like racism is not a problem.
Opting Out is Not an Option.
We are educators. We answered the call to serve. To teach. To do our part to facilitate young learners to think critically, make sound decisions, and function as contributing citizens of society…
We must model taking a bold stance against social injustice and racism by committing to creating a community and culture of antiracism.
A culture in which racism is not tolerated. Everyone takes risks. Everyone speaks up. Everyone is committed to accountability.
Leaders communicate expectations openly and clearly. Support is provided to those who need it.
People who aren't ready, disagree, or may fear saying the wrong thing….opting out isn't an option.
We need every voice.
Students need to see educators leading the way in obliterating racism. Students need educators who believe in this work, who are willing to take risks.
Students need educators who believe opting out is not an option.
Join #LeadLAP chat every Saturday on Twitter at 9:30 CST by searching the hashtag. You'll also see GritCrewEDU. Dawn & Traci have created #GritCrewEDU as home to their antiracism awareness educational resources. Find out more at LeadLikeAPirate.net.