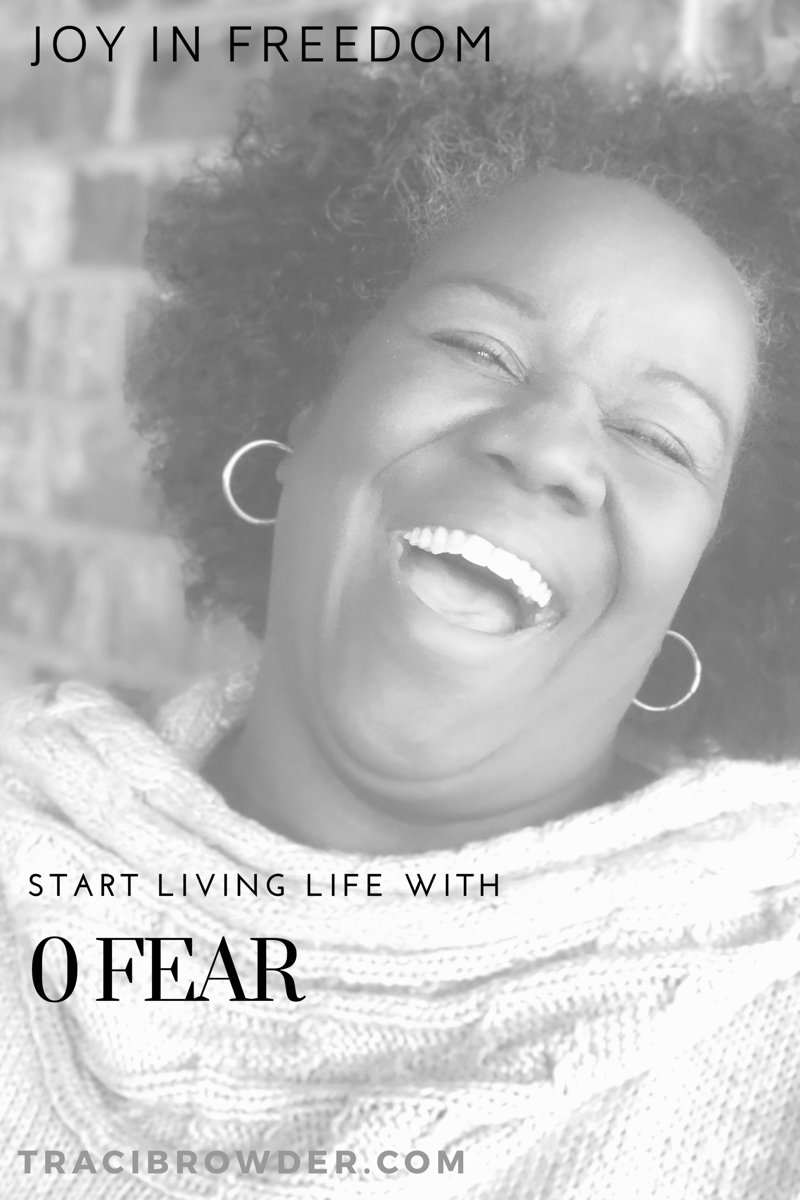 Four years.
Reading and learning from other's great blog posts. Countless hours researching how to start a blog, how to create a catchy title, do's and don't(s) of blogging, web-hosted blog, or free blog.
Then it hit me.
This research had become a comfortable way to stay nestled in my fear. I could tell myself, "I'm being thorough in my research," to justify my secret feelings of unidentified, fear-induced procrastination.
I slowly started realizing this was a perfect definition of fear in disguise.
Fear is crippling.
It hindered me for far too long.
Seven titled manuscripts sit saved on my hard drive. I would tell myself, "I could see myself writing a book, presenting at conferences, even doing podcasts." I would start writing, but then I would get consumed by fear and think that no one would want to hear what I have to say.
So what did I do? I stopped writing and just continued my daily routine.
I have lived this cycle on and off for the past four years.
What a waste of time and talent.
It was time to move beyond the fear.
Don't be like me.
Use these 9 actionable affirmations to move from crippling fear to 0 Fear.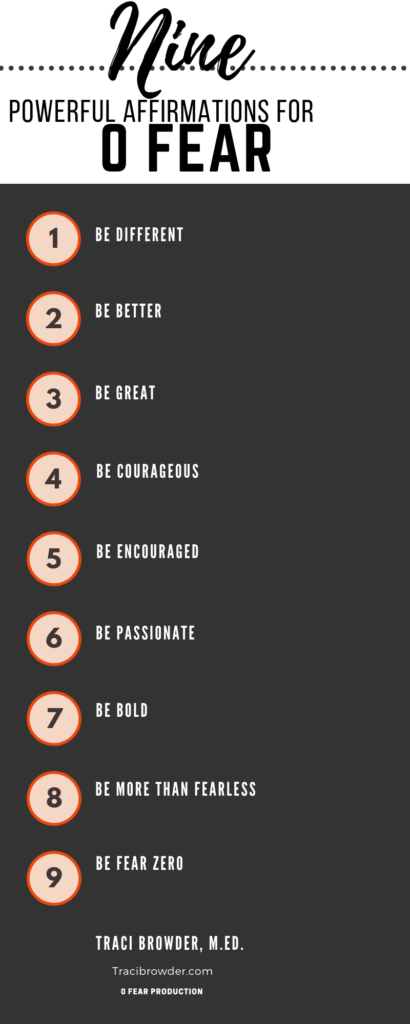 Be different.
Be better.
Be great.
Be courageous.

Be encouraged.
Be passionate.
Be bold.
Be more than fearless.
Be fear zero.
I don't want to just be fearless.  Fearless  defined means to be without fear.  I can't help seeing fear-less, which just means I have less fear. When I say fearless, it's not powerful enough as I affirm to myself that I am a conqueror of fear.
I don't want to just be fearless.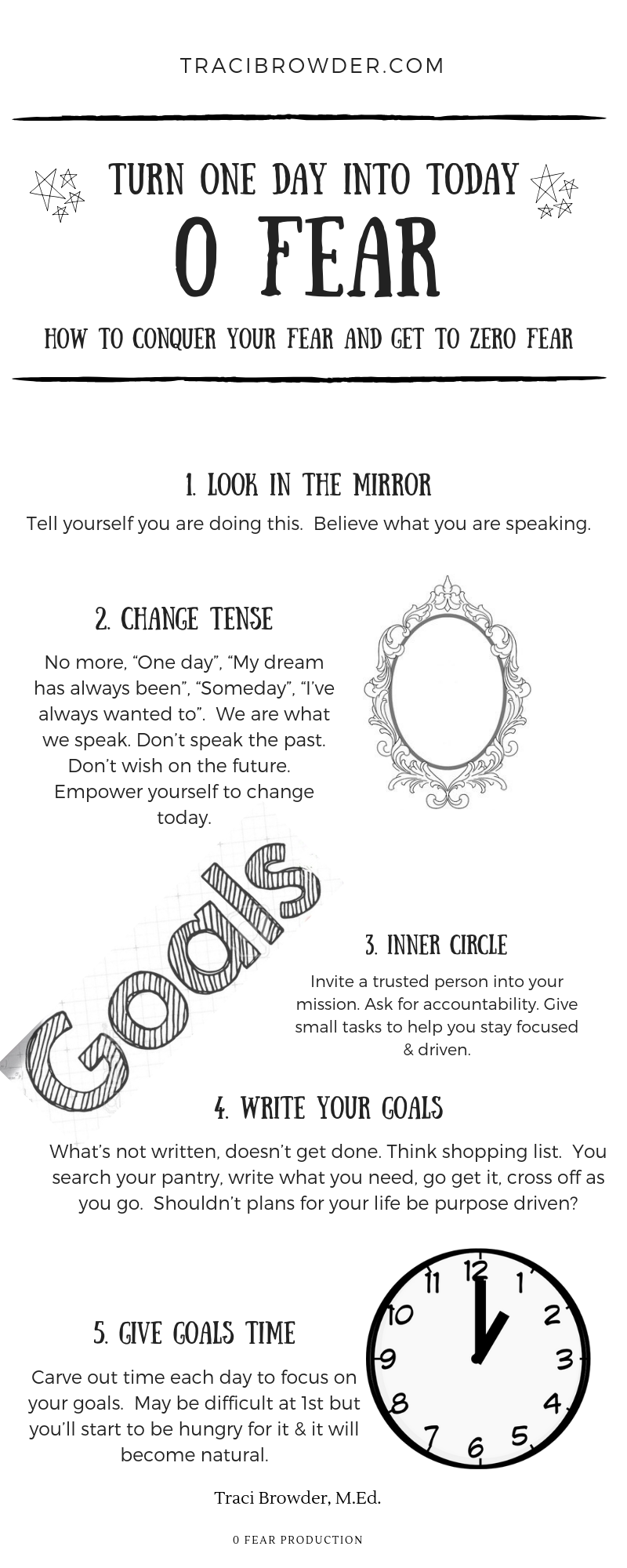 Look in the mirror and tell yourself you can do it, but you must believe what you are speaking.
Affirm your goals each morning.
Stop referring to them as "One day," or "My dream has always been."
Notice the words above.
"One day," means maybe sometime in the future. Regarding the phrase "My dream has always been", 'has always been' is present perfect tense. The definition of present perfect continuous tense according to englishpractice.com is a phrase used to talk about an action which began sometime in the past, has gone on till the present and is still continuing.
You cannot be assertive and definitive in your goals using language with so much ambiguity that also lacks specificity.
Set short term goals. Have measurable tangibles set as outcomes.
We are what we speak. Instead of saying, "One day, I will…," retrain your mindset to: "By March 2nd, I will…"
Instead of "My dream has always been," speak, "My goal is…"
Write your goals down.
Invite a trusted person into your goal and ask that person to hold you accountable. Give him/her small tasks to help you stay driven and focused. This person will hold you accountable.
Make a personal marketing plan.
Some people refer to this as a vision board, or a mission statement. Whatever term you put to it, the bottom line is giving focused thought and attention to these questions:
What is my passion?
What do I want to accomplish?
Who do I want to reach?
How do I want to reach them?
Carve out time each day to work on your goal.
It will seem like a task or chore initially, but you'll start to see progress.
Progress will keep you hungry.
Hunger will keep you committed.
Commitment produces results.
Are you ready to take the first step?
What change are you making today?
Where are you in your journey of turning dreams into goals?
What commitment will make today toward your goal?
There already? How do you conquer your fear and get to 0 Fear?
Take a bold step toward 0 Fear and share your goals here. Join my Facebook group, 0 Fear at: https://www.facebook.com/groups/2297346407212992/ .
Support and cheering for you starts right here, right now.
0 Fear.